Company updates
Meet the CCSG Team – Adam Dudley
11 April 2023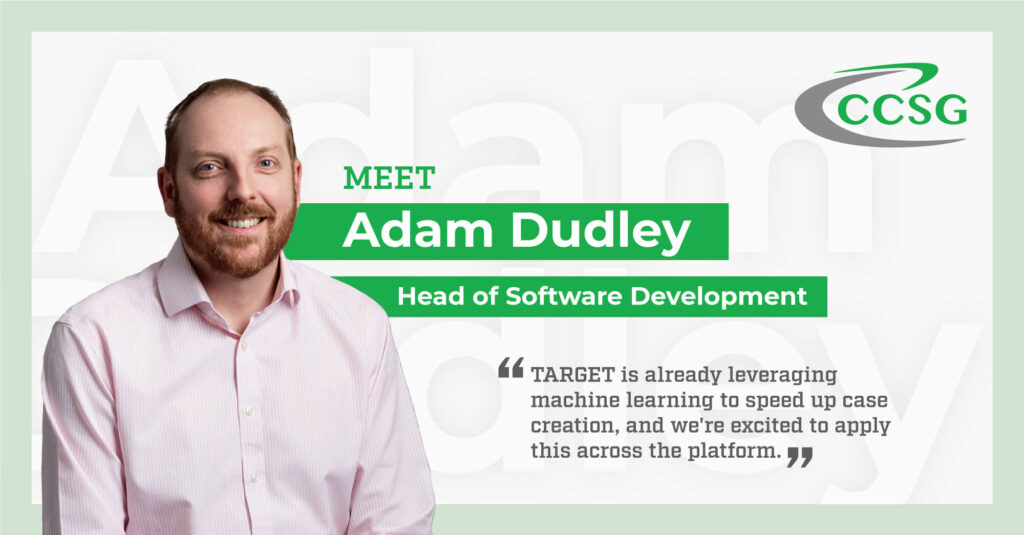 We know the process can be a little daunting when seeking out a new service provider. Often, it's hard to tell who you're actually going to be dealing with and what they're like. So, we'd like to introduce you to a few of our brilliant team members who are the brains behind the TARGET software.
Adam Dudley is CCSG's Head of Software Development. He's led the development of TARGET since its inception and knows TARGET inside and out.
Read the interview to learn more about his role, knowledge and industry predictions.
Q. What is your job title?
A. Head of Software Development
Q. What is the best thing about your job?
A. I get to play with new technology… often. Coupled with knowing the challenges that are coming over the horizon for the team, it's great to be able to test something out and have it applied in the products, or as part of the way the team works together, and then see it through to production and day to day use.
Q. If you had to pick just one, what would you say is the biggest benefit of using TARGET software?
A. The platform as a whole allows an expert fraud operator, usually the long-standing person in the company that really understands your business, to curate and orchestrate protection across the whole estate, sometimes with 100's or even 1000's of people involved doing just their little part right. It's great to see that in use, we get to hear some great war stories that often start with "we found a new way xyz fraud was occurring, and in less than an hour after activating it on the platform we had a case".
Q. What is your professional background?
A. Software, databases and code. That's what I've done since I was 17 and first 'borrowed' the bright pink 'Programming in Visual Basic' book by P. K. McBride.
Q. In the time you've been working with the TARGET software, what's been the most exciting platform update you've seen?
A. That would be the creation of TARGET itself which was initially called ProjectX in a nod to Bletchley Park; a consequence of many a refused request to 'redevelop and reengineer' the older Sentinel platform from a mixture of C, C++ and VB6 applications into a cohesive N tier platform on the .Net framework.
Q. Where do you see the retail security market going over the next 5-10 years?
A. The same direction as practically every other sector, AI. If an exceptional human can do something and a computer can be trained to do that, you have now made the exceptional abundant. To give you a practical example, TARGET is already leveraging machine learning to speed up case creation. We're already excited to apply this across the platform, and we know that it will only get better and more accurate.
Q. What makes TARGET so unique?
A. Not many products come ready to go with pre-configured retail sector-specific fraud detection exceptions, but TARGET does. Then when you add on our risk experts, the operational and technical integration that saves time and money on equipment, it certainly is a unique offering.
Q. What would you sing at a karaoke night?
A. Ice Ice Baby – Vanilla Ice…